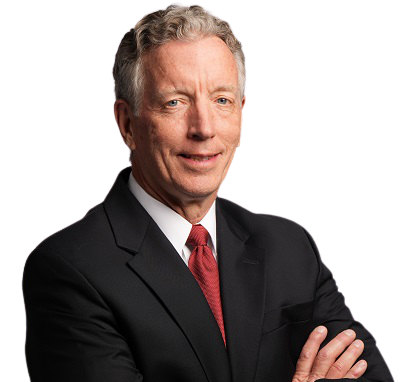 Joseph Heimann is an attorney with the James Kelly Law Firm. He is the senior attorney the Edwardsville, IL Office. He joined the firm in 2020 after eleven years as an Administrative Law Judge for the Social Security Administration, (SSA) in St Louis, Mo. Prior to working for SSA, Joe served on active duty for over 27 years as a Judge Advocate in the United States Air Force.
As a Judge for SSA, Joe presided over approximately 6,000 disability hearings for claimant's seeking disability or SSI benefits based upon a disability. In addition to disability hearings, Joe presided over SSA overpayment cases. As an ALJ with SSA, Joe was a leader in the office for continuing education and training of the attorney writers and fellow Judges. In his final year with SSA, Joe was selected as the National Grievance Chair with the Judge's union and was successful in arbitrations against the Social Security Administration for a disciplinary matter against a Judge and also a finding the Agency failed to properly bargain with the Union on changes in the hearing scheduling process.
As a Judge Advocate with the United States Air Force, Joe served commanders at every level of Command acting as their General Counsel on a broad spectrum of legal issues to include criminal, employment, contracting, labor, environmental, and matters of national security. In one of his final tours of duty, Joe served in the Pentagon as a Deputy Legal Counsel to the Chairman of the Joint Chiefs of Staff where he specialized in all operational legal issues related to both conventional and special forces operations in the War on Terrorism. In this capacity he specialized in issues related to Cyber Operations and PYOPS. In addition, while in the Air Force, Joe also served as the legal advisor to the Commander responsible for Air Operations in Afghanistan where he was the expert on Rules of Engagement for the Conduct of Air Operations and worked with aircrews in Afghanistan on implementation of the Rules of Engagement in the war.
Education
University of Arkansas - Fayetteville, J.D.
Southern Illinois University - Carbondale, B.A.
Air War College, Maxwell AFB – Maters in Strategic Studies
Bar Admissions
Court Admissions
Supreme Court of Illinois
U.S. District Court, Southern District of Illinois
U.S. Court of Appeals for the Armed Forces
Distinctions
Retired in the Grade of Colonel, USAF
Department of Defense Superior Service Medal 1OLC, Air Force Legion of Merit 1OLC
Served as principle legal advisor to Commander of 12th Air Forces, a Lt General and Principal Deputy Legal Advisor to the Chairman of the Joint Chiefs
Served as Appellate Judge on Air Force Court of Criminal Appeal
Selected to be a Federal Administrative Law Judge for the Social Security Administration